Aside from being a (procrastinating) writer, I have to admit having – while I won't call it an "affinity", it sort of applies – interest in doing comics. What I've never been confident in, however, is my artistry. I'm not skilled with the brush-strokes, and I'll be the first to admit it. However, the leaning has always been there…even since childhood.
My first foray into the world of sequential art started in the 5th Grade. I created a strip called Meety the Meteor. It was positively wretched. No redeeming quality whatsoever. The comic wasn't even funny!
That didn't stop me from putting it in the elementary school newspaper the following year.
Fastforward to the 7th Grade. I had the bright idea of resurrecting Meety for another school paper. Junior high school kids were not quite as forgiving as their younger lot. (Yes, junior highs still existed back then. I know I'm old, zip it.)
A year after that, I tried again – this time, with a new strip called Alien Antics. The titular character for this sophomore foray was a one-eyed glob…uh…thing aptly named Glorb. Get it? Glob and orb? Heh…heh…
Um…
Anyway, that one had a far better reception and enjoyed a decent preteen run.
When the veil of prepubescence lifted, however, so did the desire to do comics. Or any drawing for that matter. I was a full-grown writer by that point. Sorta.
Come early early community college, an amazing thing happened. In a sci-fi comedy I wrote for some dipshit writers workshop, Glorb made a cameo. He appeared in the form of Fred the Fungus – a ship's mascot. Fellow students were drawn to the character. I was a tad surprised.
By the time I turned 23, the itch to cartoon struck me again. Rather than go the geek route as with the two prior strips, I stuck to something more generic; college life. Lobbied Life ran for almost all of my junior(ish) year at the University of Nevada, Reno. I even got paid to do the damn thing. (Hehe…suckers. I would've done it for free!)
And now we come to the present. As some of you know, my cousin and I briefly had a run with a duel-based comic strip called Random Access. We had a short but lively run, now it's in a bit of a coma. (The polite term is hiatus.) I was writing it, my cousin was drawing it. His schedule, alas, couldn't coincide with the comic anymore. No fault of his. Shit happens. (NOTE: It will be back shortly in some fashion, I theeeenk!)
I still had the itch, though!
Then it occurred to me.
Recycling!
Take two old characters from separate strips, dust 'em off, and pit them against each other like an "odd couple"!
Brilliant!
Well, after about a month of planning and preparing, I did it. *drum roll* Welcome to Fred & Red, my short-lived labor of love! A comic that can best be described as…uh…
Hold on. Lemme think on this a moment.
I dunno.
We'll go with Spongebob Squarepants meets Abbott and Costello.
Yeah, that'll work for now.
About the Comic
This is a way for me to mooch off of my childhood and recycle some old ideas into a new medium. And more thematically adult scenarios.
(Don't answer that.)
About the Characters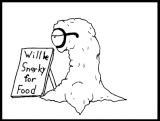 Fred (i.e. Glorb, recycled) is a one-eyed space fungus. He also has the added "bonus" of wearing glasses, much to his dismay. Cynical, biting, sarcastic, and contemplative are words to best describe this cycloptic fellow. Although his mood considerably brightens when in the presence of the opposite gender. 
Fred is the foil to…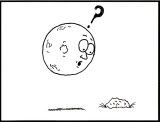 Red (i.e. Meety the Meteor, recycled) is a sentient meteor, but he prefers the moniker of "talking rock". Where Fred is grounded, Red is the exact opposite. While he isn't stupid, he is often distracted. There is also a childlike nature about him that can be mistaken for dumbassery.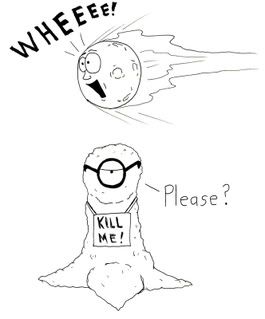 I gave it the good ol' slacker try for about two or three months. It never really caught on, and I never knew where I was going to take it. Loved the characters, but they were indeed directionless creations. Alas, in the end, I mothballed 'em again.
I may resurrected 'em in some other form, but as of yet, no such plans are in the cards. Enjoy the fruits of a two-month labor o' love regardless. It would make Red smile.
Leave a comment
Recent Posts
Calendar
February 2018
M
T
W
T
F
S
S
« Nov
1
2
3
4
5
6
7
8
9
10
11
12
13
14
15
16
17
18
19
20
21
22
23
24
25
26
27
28
Recent Comments